"Education is one of God's greatest gifts to a child because you cannot take education away from them." – Esther
During her time interning in Zambia, what Grace enjoyed the most was teaching alongside African Vision of Hope grade 3 teacher, Esther. Grace was able to get a firsthand look at what takes place both in and out of the classroom – from a teacher's perspective. This week, she is taking over our blog to share her experience on the ground.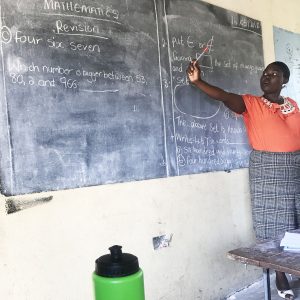 "During my short time in Zambia, I had the privilege of teaching alongside Esther Banda, the grade three teacher at African Vision of Hope School in Kabulonga. While Esther and I spent the majority of our time together in the classroom, we also spent our break and lunch time together in the library. As we spent more time together, our relationship transformed from coworkers to friends. Esther shared with me her Zambian culture, experiences in life and hopes and aspirations for not only herself but also her students. While she is fortunate to be employed by African Vision of Hope and have a secure teaching job, this did not come without hard work and dedication.
Esther was born in the Mtendere compound and is one of four girls. She attended Kabulonga Girls High School and then went on to receive her early childhood and secondary education diplomas. Her parents could not afford to help her financially so, to pay for her education, she worked in a small grocery store and saved all of her money. Esther has always valued school, and she is the only one of all her siblings to finish high school. It is because of her deep love for education that she decided to become a teacher. She has been teaching at the school for the past seven years and says she loves it. 'I enjoy helping the children and knowing that they will have education in their lives. Education is one of God's greatest gifts to a child because you cannot take education away from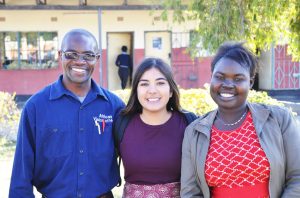 someone.' Through teaching at African Vision of Hope School, Esther says she has been witness to God's love for the children and seeing what Amai (mother) Judi is doing brings her so much joy.  In the two weeks I spent at African Vision of Hope School in Kabulonga, it was evident to me that Esther has a deep love for God and a heart to serve his children. I am inspired by her dedication and love for her students. Please keep her and her students in your prayers!  –  Grace "
African Vision of Hope teachers care for their students as if they were their own children. Without an education, a child in Zambia has little hope of survival. They will not be able to get a steady job, earn enough money to feed themselves or their family, and their cycle of poverty will continue. Education really is a gift that cannot be taken away. Give that gift today. For $300 a month, you can provide one teacher's salary.
"Train up a child in the way he should go; even when he is old he will not depart from it".  -Proverbs 22:6