With a name like "blessings," you would think that life would be pretty great for this 9-year-old boy living in Chongwe, Zambia. That wasn't the case until you stepped in and changed his story.
"I, Blessings, never had a good life. From the time I was born my parents used to fight every day, scaring my siblings and I. We never used to eat. My mother could not work and my father was a drunk who would beat her. One day, she fought back and killed him. She died the next day because she was badly injured in the fight. Now we live with our aunt."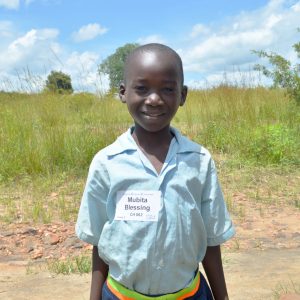 "My greatest challenge is finding food for my siblings and I. Our aunt only feeds us one meal a day and it is in the evening. On school breaks, this is our only source of food, so I do some work fetching water in exchange for food. I walk 4 miles to fetch water and bring it back to my employer. For every 5 gallons I bring, I receive 8 slices of bread. I take this food back to my siblings and we share it. My aunt likes beating, insulting, and kicking us out of the house when she finds out we have eaten. "
"The only nice thing she has ever done for me was to enroll me in African Vision of Hope School in Chongwe. I am so happy because, when school is in session, I eat at school and am able to take some food home for my siblings. I love seeing my teachers and my friends, and I just love school! Thank you African Vision of Hope."
Because of you, Blessings has a reason to smile. When he is at school, he is able to escape his troubles and feel loved. School is a place of refuge and safety – and there is a school because of generous partners like you. You have made rescuing children your business. By finding sponsorship for students, additional classrooms can be built and more children can be rescued from their desperate situations.