Having a child with a heart condition is just one worry on Charity's mind. She gave birth to twin boys in 2014 and noticed that one baby was much smaller than the other. The smaller boy, Mpundu, would eat much less than his brother. The healthy brother passed away suddenly after only a few months of life.
Charity noticed that Mpundu's body would often become swollen and she feared he would die too. Charity spent many hours in the hospital with Mpundu, trying different medicines and treatments. His heart problems continued, but at least his body stopped swelling and his skin stopped turning blue from lack of oxygen. "During this crisis, my husband left me for another woman. God helped me get through the grief and pushed me to be strong for my three surviving children."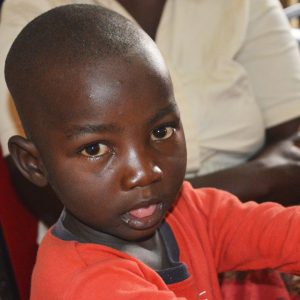 Mpundu has been suffering with his heart condition for 4 years. Charity has to buy medicine every 10 days to keep him alive and has to make frequent trips to the hospital with him. "It is a lot of money for me, a single mother, who survives by doing small odd jobs. I want God to give me rest in all my struggles. I pray my child will be healed and for us to have peace in our lives. I have now been to Lusaka Hospital 17 times with Mpundu. I have been counting."
"I was chased from my job as a house keeper because of my child's condition. My husband is now married to another woman and I am alone with our children. I feel blessed to be given this opportunity to travel to India with Mbundu. I have hope that God will heal my child. I know He does not like seeing us suffer every day."
Because of a partnership between Gift of Life International and African Vision of Hope, Mpundu is receiving free heart surgery in India. He joins a growing list of children, a total of 30 so far, that have been given a second chance at childhood. Many of these 30 children, who were told they would not live a couple more years at the most, have been given hope for the future.
Thank you to Gift of Life International for your partnership, and thank you to generous donors who make this life-saving intervention possible.
[button style="btn-primary btn-lg" type="link" target="false" title="Mend little broken hearts like Mpundu's" link="/give-now/" linkrel=""]