Susan Chipeta is dying of AIDS. She is managing the disease, but she knows that it will eventually steal her away from her 3 children.
Susan came to the African Vision of Hope School office begging for her children to be admitted. They are currently enrolled in another school which charges fees that they are struggling to afford. Susan's life has dealt her some tragic cards.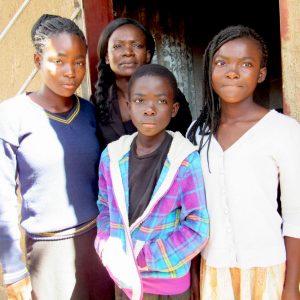 Susan grew up a double orphan. She was married in 2000, and when she was 3 months pregnant with her youngest child, her husband was killed in a car accident. His family took all of their possessions, including their small fabric shop, and kicked them out of their home. His family wanted to keep her children when she decided to move to Zambia and live with relatives. She was so afraid that they would sell and marry her oldest daughter off that she insisted on taking them with her, and they all moved to Zambia. Susan found a job as a security guard and was able to rent a one room house for the 4 of them to stay in.
"There are things that I have gone through, things that keep me strong and fight for my children's future." She doesn't want her children to have to go through what she went through. It is hard to stay strong when she is ill with HIV/AIDS. She finds peace in Jesus, and is the praise leader at her church.
Susan came to know about African Vision of Hope through a friend whose children attend African Vision of Hope School. She says "It's not about me or what I want, but my life is about my children, and I need to sacrifice for my children." Susan admits that it is not easy to raise her children alone, but there are people out there that can help you if you can't manage. She is so grateful that she is not in a position where she would have to sell her body to have enough money to take care of her children, because she knows she has value as a woman.
Can you imagine knowing that you are dying and not knowing where your children will go or how they will survive without you? Susan is begging for her children to be in the African Vision of Hope School because she knows that a free education is their ticket to the future. If educated, her children will be able to provide for themselves, even after she is gone.
We cannot accept Susan's children, Esther, Deborah, and Elijah into African Vision of Hope School until more current students are sponsored. We cannot open the doors to new students until existing students are provided for.
Will you sponsor a child today and open a seat for Susan's children?