African Vision of Hope Schools are bursting at the seams. We have a shortage of classrooms, desks, and teachers. But, there is never a shortage of children who need our help. Currently, only 800 of African Vision of Hope's 3,000 students have child sponsors. There cannot be more classrooms, more desks, and more teachers unless there are more child sponsors. Until more students are sponsored, our doors to new students are closed. Students like Annet need a sponsor like you.
Annet is a double orphan, which means that both her mother and father have passed away. She and her five siblings live with their grandmother now. "Our grandmother is caring and helpful but she struggles a lot to provide for all of us. Before living with our grandmother my siblings and I were passed from family to family. We have been a burden to them. My sister and I are the only ones attending African Vision of Hope school. I am in grade 4 and she is in grade 3."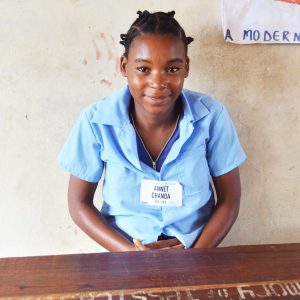 "Now that I am in school, I see my future is dependent on my education. I have learned how to read and write and know more about God. I love this school because here, in our area, it is the only school that gives us free education, books, and even clothes. They provide us free meals, even when we have not eaten at home. I love coming to school because I always know that I will eat. It helps me concentrate on my studies knowing my grandmother will not have to struggle to provide two meals for each of my siblings and I."
Annet wants to be a journalist when she grows up, and she knows that without going to school and working hard that dream will not become a reality. She says that she is working hard to finish school and better her life. "Thank you African Vision of Hope for the work you are doing. May you continue to do so, and continue helping us to build our dreams."
Annet is looking for a sponsor to write to her and welcome her into their family. Will you be there for Annet? Her ID is KS193. This year, African Vision of Hope's goal is to find sponsorship for 500 students. Will you be one of them? 
[button style="btn-primary btn-lg" type="link" target="false" title="Sponsor Annet today" link="/donation-category/sponsorship/sponsor-a-child/" linkrel=""]