No one's dream is to be a parent at 13. That definitely wasn't how Clodithah envisioned her childhood. When her mother died, her alcoholic father could not take care of she and her 5 siblings. She remembers, "There were nights he would come home late, or not even come home at all."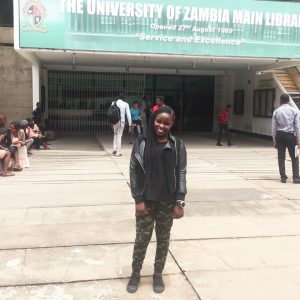 Her mother's medical debts kept them from being able to pay for school for over a year. When they were finally able to go back to school, Clothildah would come home from class and cook for her siblings, help them with their homework, and eventually do her own school work. She took care of all of her siblings on her own. She completed the 9th grade but was unable to pay the fees to move on to 10th grade. Even though she was unable to attend classes, she shared books with her friends and studied their lessons.
Then Clothildah learned about African Vision of Hope, a school for vulnerable children just like her. She was given a place in school and in the boarding house and remembers, "God brought me there. It felt like a miracle." Now Clothildah is studying Special Education at the University of Zambia with a scholarship from African VIsion of Hope.
"Without a doubt, African Vision of Hope is a dream come true for me and the generations to come. I can see God working in my life, and I now understand how the difficult times helped to make me the person I am today. I love Romans 8:28, which says 'We are assured and know that all things work together and are for the good of those who love God and are called according to His purpose.' Continue helping us and others who really need your support to get through to the end."