Nurse Clementina treks through the trash dump, medically ministering to the families who live there. 
There is a popular saying that quotes "God found some of the strongest women and made them nurses." That is no exception when it comes to African Vision of Hope's School nurse, Clementina.
Nurse Clementina is considered an angel on earth to the people she serves. Her job is one of the hardest to accomplish. She travels through the bush in Zambia to treat students, staff, and their villages with quality health care. Myths, misunderstanding and misconception are responsible for the widespread of the AIDS epidemic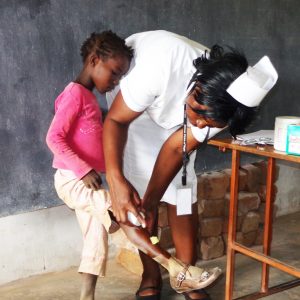 throughout Zambia. Nurse Clementina must work against these challenges to educate the students and community on how to decrease the spread of this horrible disease and other illnesses such as malaria, infections and parasites, along with providing basic health services.
Health care doesn't come free. Without our beloved nurse, many pregnant and nursing mothers will not receive the vitamins they need. Countless cases of AIDS will go untreated or un-prevented. Many young women will not learn how to escape their abusive relationships and cultural limitations. Hundreds of children and families with preventable diseases and illnesses will be left undiagnosed and untreated.
That is where you come in. Will you help Nurse Clementina continue to receive the training, equipment, and education she needs to treat and prevent illnesses across Zambia?
Thank you, Nurse Clementina, for your selfless servanthood of the poorest of the poor. And thank you, generous donors, for making her work possible. With your continued support, our "angel on earth" can continue being just that.