As a parent, you hope and pray that your children grow up to be good people. That is one of the reasons Charity, a single mother of six, brought her children to African Vision of Hope School in Kabulonga. "I came here because I cannot afford to pay for my children's school fees at other schools.  Also, another reason is because African Vision of Hope has created a good name for themselves. They teach the word of God, such that the children grow up to be good people."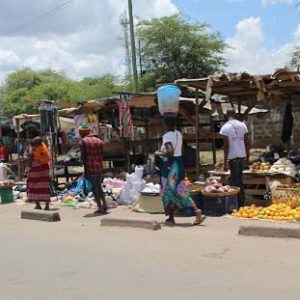 Charity's husband abandoned them, so she is the sole provider for their family. She has a small business where she buys a sack of cornmeal (used to make nshima, the staple food in Zambia) and then divides it out into smaller bags. She sells these bags for about $.11 per bag. Charity sells these in the compounds because the majority of the residents are in survival mode. They can only afford to buy a single small bag per day containing about 3 cups of cornmeal. This is just enough to make a small meal for a few people. 
It takes Charity three days to sell her 55 pound bag of cornmeal and her profit is about $.85. She sells herself a small bag of cornmeal and uses that to feed her family. The universal poverty line is when you live on less than $2.00 a day, and Charity's family lives on $.28.
Without African Vision of Hope, her children would have no hope of receiving an education. Now, they receive one meal a day at school, clean water, medical care, spiritual mentoring, and hope for their future. Will you sponsor a Sharon, one of Charity's children at African Vision of Hope School in Kabulonga? 
Sponsor a child today