What do three college students and African Vision of Hope have in common? More than you would think.
We both love child sponsorship! When Andrew entered his third year of college, he was looking for an opportunity to go beyond himself and take care of someone (or something) less fortunate. What began as a search for a canine companion became a commitment to a 6-year-old boy named Brighton living on the other side of the globe. Here's how it happened.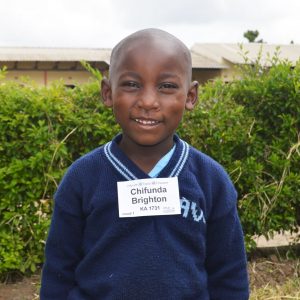 "About a year ago I decided to get a dog. I started to do research into different costs and began budgeting. Soon, all there was left to do was buy the dog. For months I looked at puppies and rescues trying to find the perfect one. The longer I searched the more selfish I felt. Dogs are expensive! In July I had a thought so quiet it felt like a whisper, "Sponsor a child". I deliberated about it for months. I wanted to make sure that If I was going to impact a real human being I would be able follow it through. I went to the African Vision of Hope website and began to look at kids. My heart hurt when I saw how long some of them have been waiting. It was then that I saw Brighton, a 6-year-old boy who had been waiting a year. That's when I took my "puppy budget" and rearranged it until I had a "Brighton budget".

I felt God pushing me to this little 6-year-old who lived a world away. I became his sponsor and got a packet in the mail asking me to write a letter and send a family picture. I then invited my roommates to write Brighton letters, too. I knew that he deserves so much more love than I can give on my own. I wanted him to know that he had a family who cared for him unconditionally, who didn't even know him yet. When you live in America hunger is a momentary issue for most. When you live in America you have access to free education. When you live in America we have homeless shelters. In Zambia malnutrition is normal. In Zambia the poor get no education at all. In Zambia people call a 'under a bridge' home. Sponsoring a child means giving a child their life back. I pray that God will keep Brighton safe from the diseases that plague his country, that God will use African Vision of Hope to give Brighton every opportunity he can grab onto to live a life free of poverty, and that God will work in his heart and let him know that he loves him so much more than 3 college students in Missouri could possibly try to explain. As a college student who makes very little money and has to live off of it, I can say that I do not miss the money for a second. I already love Brighton so much more than any amount of money could equate to.

If you are thinking about sponsoring a child, know that there is no better decision than to show someone love. It is Jesus' number 1 command for a reason. He is love. Show these kids Jesus. Show them the great love and grace that you have experienced and give them hope."
In their letters, each of the boys share their favorite Bible verse and story, encourage Brighton to study hard, and remind him that he is loved and important to them.
If you've been thinking about sponsoring a child, listen to the whisper of your heart and do it today.