Most of the students that pass through African Vision of Hope School's doors have similar stories. Every story has similar threads – they became an orphan at a young age, were sent to live with relatives, and lost hope of ever becoming someone in life because of their lack of education. Each of these threads are woven together and they become the children in our schools. Sponsorship changes their pattern, from orphan to student. The sponsored children in our schools write to their sponsors often, and most times their letters overflow with gratitude for the amazing gift that they have been given – a free education. Here are a few excerpts from letters written to sponsors. The love and appreciation these students feel can barely be expressed on paper.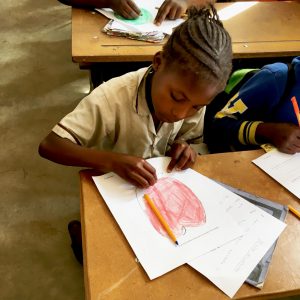 I want to thank God for this school and the people who are sponsoring it. This school has changed me by giving me free education. I was a nobody but now I am somebody."

"I have been happy because you are always there and you will be there for us. Ever since my parents passed away you are the only people that bring love and joy to my heart. I once again say thank you for your help and being kind with your generosity."

"I have nothing to reward you or to repay you back, but the One who is in heaven, He will reward you more than you expect. May His precious hand be upon your life and protect you forever and ever."

"When you chose me God also chose me. When I found out I had a sponsor it was a shock. I couldn't breathe or blink for about two or three seconds. I am happy and astonished and will forever be grateful to you and I will be praying for you now and forever."

"Thank you, African Vision of Hope, for changing my story from sad to full of happiness and my tears to joy.

My saddest and painful moments are now my strength in Christ Jesus.

May God bless African Vision of Hope and multiply its resources and members"

"Because you have given me a free education my parents could not afford, and you came in my life with sponsorship, you have created homes for the homeless, hope for the hopeless and even gave vision to us."

"Thank you for what you have done for me by being my sponsor. It is like being my parents because my parents could not manage to pay for my school."
Thank you to everyone who sponsors or supports African Vision of Hope, whether it be by donation or prayer. You are changing generations. You are providing food, medical care, education and hope to kids living in extreme poverty. If you want to encourage a student to follow their dreams, become a sponsor today.
sponsor a child and change their world