What does it mean to be a father? Elliott Mwanza, African Vision of Hope's Child Sponsorship Coordinator in Zambia, has a different definition than most fathers in Zambia.
Give dad a gift that keeps on giving
To Elliott, being a father means "I am responsible for taking care of my children and family. It means to provide clothes, food, and to raise them up to know God."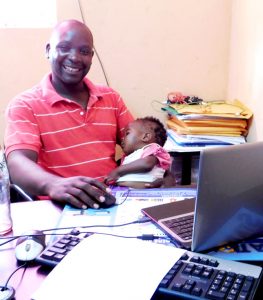 The typical Zambian father is quite the opposite. "Traditionally, what I have seen, the men in my culture, they spend all of their earnings on drinking and have no money left for rent." To these fathers, the more children you have, the more wealth you have. This is because you can sell your children into marriage or have them work for money. A man has many girlfriends or wives and finds his masculinity in the number of children they have.
Elliott credits his own father for his different views on fatherhood. "He only had one wife, I never saw him drunk, and he really cared about our faith." Elliott says that being a father has taught him how to love. "From the time that I became a father it made me realize how God loves me. If I can love my child as much as I do, it has made me realize how much my Heavenly Father loves me." He credits his wife Harriett for making him work extra hard at being the best father he can be, and he smiles when he says "she changed everything about me – for the good." They help counsel other couples on how to be the parents and spouses that God calls them to be.
Elliott has been working for African Vision of Hope in Zambia for 10 years and is an incredible asset to the team. Today we recognize his commitment to going against the grain and breaking the traditional "father" mold that Zambia has passed from generation to generation. Thank you, fathers, for all you do in setting an example for your children and raising them up and  fulfilling Proverbs 22:6 which says "Start children off on the way they should go, and even when they are old they will not turn from it."
Honor your father today with a donation to African Vision of Hope. Every gift makes a difference in someone's life. Someone like Elliott, who if not for your donations, would not have a job and would not be able to be the provider his family needs.