Simon stands proudly with his new corn planter – a tool that will change his life in more ways than one.
When you step onto a farm in the rural village of Chongwe, you feel as though you are taking a trip back in time. These farmers still plow their fields with oxen and plant their seeds by hand.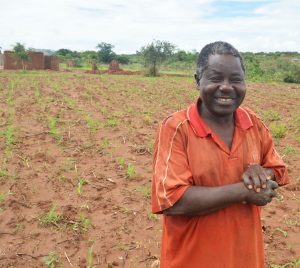 Another exciting partnership has been taking place in Zambia over the past two months. Members of the Rotary spent time with farmers from 5 rural villages, working hand in hand to improve their agricultural practices. These farmers were selected by their village Headman and by the African Vision of Hope team to receive this training.
Many farmers in rural Zambia are women – and most farm on a small scale. Their crops are grown to feed their family and make a very small profit to pay for other necessities. A translator from African Vision of Hope had to be present every step of the way because very few of these farmers are educated, and even fewer know English. The men and women were shown how to perform soil testing and other important agricultural measures in order to increase yields. Because farming is their livelihood, these lessons will greatly improve their quality of life and income potential.
Simon is one such farmer. He and his wife have 9 children and depend on their farm to feed their family. Simon has been a farmer since he was a boy, coming from a long line of farmers. "My whole life I have faced challenges in farming such as knowing if my soil is fertile, wondering what types of seeds to plant and when to plant them, the spacing of the seeds, how to use herbicides, and how to reduce my physical labor. I never knew that there were machines that could make farming easier."
At the close of their time together, the Rotary granted each farmer a corn planter and fertilizer sprayer. This will not only allow these men and women to plant more corn and soybeans faster, it will also save their bodies from the backbreaking labor of hand-planting and weeding their fields. Partnerships like this are a life-changer for farmers like Simon.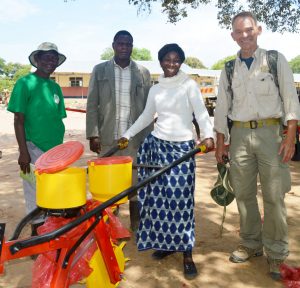 "I have learned so much about the factors that impact corn growth such as weather, crop density, nutrient supply, weed competition, and pest pressure. In all my years of farming, I never knew any of these things. I am looking forward to seeing my fields full of beautiful green corn this year. I am sure my fields will be more full than they have ever been. Thank you so much for your support and knowledge, it's not just helping me but many farmers from other villages."

– Simon
Thank you to the Rotary for coming alongside rural farmers and sharing these essential agricultural lessons. Because of you, these men and women will be better equipped to feed and provide for their families, families that some of our students live with.