It's not okay for any child to be abandoned- left alone in the world.
But it happens. Especially in Zambia.
A family strangled by poverty, struggles to find enough food. Disease kills the father. The mother struggles more to make ends meet. The children's bellies bloat with starvation. The mother dies and the children are left alone.
The eldest child in the family, 10 years old is suddenly an orphan left to "parent" his younger siblings.
Stories like this are endless in Zambia. Children are barely surviving.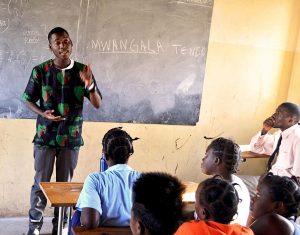 Misheck, a graduate of African Vision of Hope is one of countless orphans. His story is one he never wanted to share. He says, "It was hard to live through and I never wanted to remember it or live through it again so I kept it all inside."
Upon coming to African Vision of Hope as a tenth grade student Misheck heard his classmates share their stories and they were all too familiar. Families destroyed by hunger. Parents buried too soon. Siblings broken up to live with different families members. Children forced to drop out of school to begin work.
Time after time Misheck saw how a painful past is what gave his peers their inner strength. Misheck and his now college classmates formed a group, Youths of Zambia Alive, and they go to local village schools to talk to the students. Misheck learned to open up about his past and wants to help the next generation of suffering students to strive beyond their sorrows.
"We learn the children's stories when we visit in the schools. We encourage the students and partner with them. We want to be a part of their passion to keep going. To live a better life. It is a dream to share and listen to others stories and help them see their stories as their strength."
That same boy left alone at such a young age is now a role model for his country. Pushing through his past to make his present powerful.