An orphan, a street kid, a college graduate, and an electrical engineer…what do they all have in common? They are the same person…Misheck Mumba.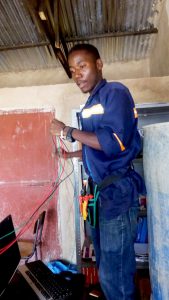 Perhaps you met Misheck at one of our previous Gala's. His smile is contagious and his heart is filled with such joy. Once a young orphan living on the streets, he is now an electrical engineer.
When our Chongwe School received a generator, Mischeck and two other graduates, Austin Ngoma and Dumisani Dube, who are all qualified Electrical Engineers were eager to help with the project of electrifying the school.
The boys were overjoyed to help at their alma mater. The same classrooms that once welcomed them as young street kids, tattered and broken were now getting electricity. Their education and skills enabled them to fulfill the job and to be able to give back.
I am so proud of them, but even more so, they are proud of themselves. And that is what an education provides.
Help End Poverty Through Education