Chance hard at work in the African Vision of Hope office in Zambia
When Chance Banda came to African Vision of Hope, she had just lost her job and could not provide for her two young children. She and her children were given a second chance. Here is their story.
"My name is Chance Banda, and I have two children, Tehilah (Which means 'praise God' in Greek)  and Joseph. Both attend school at African Vision of Hope Kabulonga."
"I am an orphan and never knew my parents. I lived with a great uncle, and one day he left the house and never came back. I was abandoned at only 13 years old.  Every day I would search for work to survive, going from place to place to beg for shelter. I was constantly insulted because I was an orphan. No one wanted me. If I was given food I had to work. They would insult my looks. I would cry and cry, then they threw me out of that place. "
"I would go to strangers as I had no relatives left. I felt so bad, yet I knew in my heart that there was a God"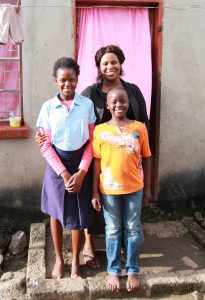 "At age 16, I was homeless but met a stranger and started staying with him.  To stay there, I was given to his son as part of my payment. I became pregnant, twice, and had my two children. He would mistreat me, making me sleep outside in the cold. My children and I left and were on our own.  I had not finished my 12th grade so there was no work for me except being a maid. I was only making $2 US dollars a day. But still I knew God was there for me."
"Someone told me about African Vision of Hope School and I went there and pleaded for a place for my children to stay at the orphanage and a place in school. They were enrolled and I told the school I would help in any way I could. They gave me a job as a cleaner at the school office and I helped register new students who came to the office. I was encouraged by the African Vision of Hope staff to go back and finish school. I wrote my grade 12 exams and passed!"
"I am now taking some accounting classes and working under the African Vision Accountant as an intern. The staff have become my family. We are a really big family, and they love and encourage me and extend the hand of God in my life. I am so thankful. My life changed. Now that I am employed I am able to support my children and myself.
Today Chance is a woman of many "hats" for African Vision of Hope on the ground in Zambia. She answers questions and enquiries about African Vision of Hope, enters data, types up stories of children and college students, helps do payroll, and if needed, she helps clean the office and cook for the staff.  Chance notes, "I never knew my parents and don't have any blood relatives, I never had a family, but I feel God has blessed me with a big family through African Vision of Hope, a big family that I could have never expected."
You have given Chance a second chance. A chance at a career, a chance of providing for her children, a chance to have a family who loves her. Her children would not have chance to go to school, a chance to grow up healthy and strong, a chance to thrive and become strong healthy Zambians who have the ability to change their country.
Thank you for giving them a chance.