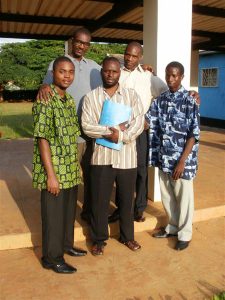 Be Part of a Seminary Student's Journey!
In order for African Vision of Hope to reach more children and families in Africa, we support students going through seminary.  These students share the same passion as us – to see the kingdom of God grow as they plant churches and meet the needs of the people. African Vision of Hope has had 17 seminary students graduate from the seminary program and currently supports 15 others going through seminary school. Once these seminary students graduate, they intend to go out to other parts of Africa to start a church and to help teach and train others in their communities.  We have partnered with these seminary students to meet these goals that our organization and the students are both passionate about.
 Support Higher Education
Education and leadership training play a significant role in releasing communities from extreme poverty. When a person goes to college or seminary, they obtain the necessary skills to become a true leader. African Vision of Hope assists men and women who have shown potential to become leaders who can, in turn, influence their communities and nations. Your donation assists with college tuition, leadership development classes, seminary, books, and room and board.

The students in our leadership development program are grateful for the opportunity to use their God-given talents to help others. They are eager to learn and eager to make a difference in their own communities and country. Higher education plays a vital role in a country's development. These scholarships help students in the following programs:
Skills and vocational training
College and University degrees
Seminary School
Leadership and Development Courses
Click Here to give towards a Seminary Students Sponsorship