Volunesia (noun) – That moment when you forget you are volunteering to help change lives, because it's changing yours.
When you go on a mission trip with African Vision of Hope, you will inevitably experience volunesia, and it may just change your life. Hope, a mission team member, recently returned from her trip to Zambia and could not agree with this more.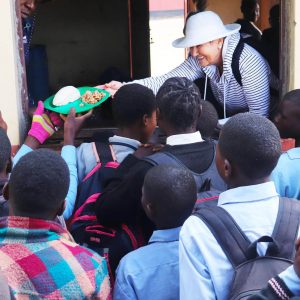 "In July of 2018, I had the opportunity to take my granddaughter to Zambia on an African Vision of Hope mission trip. From the moment our plane landed, I knew this was going to be a special week. From Chongwe to Kabulonga, I met the most amazing children and adults. Holding these precious little ones on my lap, having them rub my face with their grubby little hands, and clinging to my legs as I walked was the most wonderful feeling. I have never felt such love or such need. I cannot keep the tears from coming when I speak of these beloved people. Since my return, I can't stop talking about the needs of these children. I have never been as energized about anything. Spending time praying, singing, running, trying to dance, loving, weeping, and simply holding someone's hand – the joys and wonder of this trip. It was a trip of a lifetime.  To everyone I met during my time on the ground and all of my new Zambian friends, you will always be in my heart and prayers. To those of you who have never found a passion for Christ and His world – go to Zambia."
If you would like to experience volunesia for yourself, take Hope's advice and go to Zambia with African Vision of Hope.