Tabu entered the world alone. Her father died before she was born and her mother passed away during childbirth. She was given the name Tabu (pronounced "Taboo") because she was considered cursed. The grandmother who cared for her also died, leaving Tabu alone once again. She went to live with her uncles, hoping they would love and provide for her. Instead, she was made to be their slave, working jobs to buy food and to avoid beatings or being thrown out. Every night she hid in her room, afraid of being raped or sold into marriage or prostitution.
Tabu was living in a constant state of fear.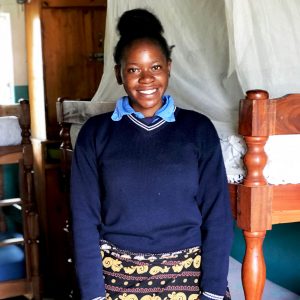 "My life became a living nightmare. I was beaten and faced exploitation and sexual abuse. I was forced to work and was often refused shelter or food. I had to quit school because I could not afford the fees. My uncles bought beer with the money I had saved for school."
Every day she was told she was a burden and the reality of being sold into marriage was drawing closer. At the tender age of 14, Tabu considered taking her own life to escape the hopelessness. When a friend told her about a school called African Vision of Hope, she went to the office and applied, never turning back.
"I will never forget that moment. God answered the prayers of my heart. I came with only the clothes on my back and was given a safe place to stay and a spot in school. My dream is to be a nurse so I can help people that are in need like orphans, widows, single mothers and those on the streets."
Tabu will be able to see her dream become a reality with a future African Vision of Hope college scholarship. She has a real family now and has learned to forgive. Tabu looks forward to the future with expectation instead of fear.
At African Vision of Hope, we don't stop at rescuing children, we help restore their stolen childhoods and dreams of completing school. Thousands of girls like Tabu are living a nightmare, trapped in desperate situations with no hope.
Rescue and redemption is not only possible, it is happening. It is because of YOU.