Can you imagine being chased from school as a child because you could not pay for your schooling? All Joseph wanted to do was get an education so he could someday become a businessman, but the reality in Zambia is that government schools charge school fees that families cannot afford. Families like Joseph's.
Joseph and his siblings are double orphans. He and his two sisters were separated when his parents died and they all live in different villages with different family members. Joseph moved in with his grandfather and says that is when life became increasingly difficult.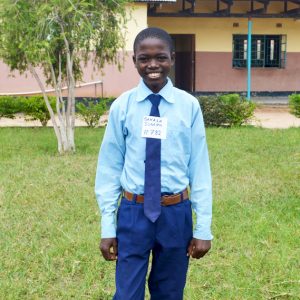 After finishing 7th grade, Joseph's grandfather was unable to afford the government school fees. He had to stay home and begged on the street for money to pay for school. No one could offer him a job because he was so young. While he was enrolled in government school, Joseph faced many challenges, such as being chased from school because when fees came due he could not pay them. He would sit in class until they would discover he had not paid, and then they would send him away. While in class, he did not own a notebook and was unable to take notes in class. He had to reuse his old used notebooks from previous years and squeeze new notes in the margins and any empty spaces he could find.
Joseph's grandfather could only feed him one meal a day, which meant he had to go to school on an empty stomach. Can you imagine how hard it is to concentrate when you haven't eaten anything since the day before? While Joseph was out of school his neighbor noticed he wasn't attending classes. When he explained to the neighbor that he couldn't afford school fees, he was told about African Vision of Hope. Joseph was then enrolled at African Vision of Hope school in 8th grade.
Joseph says "Now I am able to get a meal at school and a meal at home. I am given books and notebooks whenever I need them. I am so very happy at this school. I really appreciate what African Vision of hope is doing in my life, I never thought I would reach this level of education. When I complete my studies I want to be a businessman."
Your donations make Joseph's aspirations of becoming a business man possible. Your donations took him off the street and put him in a desk. Your donations are fueling his dreams!
Help take kids like Joseph from begging in the streets to learning in a classroom.