During the month of December, three African Vision of Hope teachers and administrators flew from Lusaka, Zambia to St. Louis, Missouri to participate in a partnership with a local Christian school, Westminster Christian Academy. Lawrence, our Zambian Superintendent of Schools, Salome, the Head Teacher at our school in Kafue, and Mwansa, the high school Math teacher at our school in Chongwe, were the three Zambians chosen to make the trip. During their time at this prestigious school, the teachers' main focus was to learn how to integrate a Biblical worldview into their existing curriculum.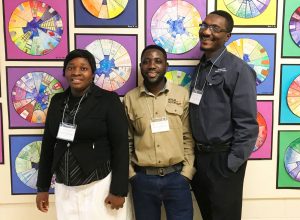 "We have learned many things, but one main thing I will take back with me is that you can integrate Biblical themes into any class you teach, whether it be math, science, art, business, and even robotics," Mwansa says. "They are not just giving children facts about math, but they are also bringing in those themes of God's creation. My mind was blown! I learned that math is a subject where children can learn very much about God. The teacher showed us how you can teach students to critically think and explore the universe in order to appreciate God's creation, even through subjects like math. We have been able to learn so much."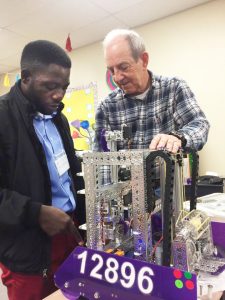 Lawrence also made an important observation, "The faculty themselves are chosen specifically and are trained on this curriculum before they even begin teaching. This helps them achieve their purpose as a Christian school. The families are connected to the school and are involved in their students' lives. They have parents who volunteer every day. The partnership of parent and teacher is so strong that they give service to the school at their own will. That is one of the greatest things I have been able to take home. We have enjoyed seeing how things are done and seeing how much teachers are involved in everything that goes on here – every person is just awesome. In our language there is a saying that goes 'as if they were born from one mother'. That is the unity we feel – like brothers and sisters. In every staff, that we have met, there is that passion and zeal to teach these children. We have so much information to take back to Zambia. Our time here has been so valuable."
Salome is looking forward to taking everything they have learned back to Zambia and working to implement it into our schools. "This will not happen overnight for us, but at least we have a starting point to begin from. Change is hard, especially when people are set in their ways, but they will have to adapt. We are nervous and excited to try this at home, and there is a lot we can do to make this happen."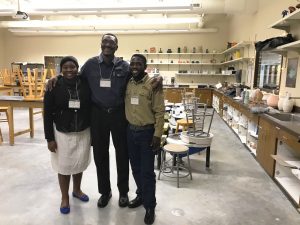 During their time in the USA the teachers also enjoyed:
Meeting former St. Louis Cardinals Manager, Mike Matheny, and listening to him share his life story
Observing and interviewing teachers and staff from all departments of the school including: art, math, science, business, music, theater, Bible, history, robotics, college counselors, Dean of Students, and more
Interviewing students and parents
Attending concerts and services at local churches and colleges
This three-year partnership will also include Westminster Christian Academy teachers and staff flying to Zambia to complete additional training with local African Vision of Hope teachers in the future. We are thankful and looking to the future with excitement! God is doing big things through teachers all across the globe.