No one has ever become poor by giving. –  Anne Frank
If you walk down the dirt streets of Lusaka, Zambia's capital city, you may see Bridgett's sewing shop nestled in between the crowded buildings. She is the only employee in her small metal box of a shop, but she has dreams of expanding.
Bridgett and her husband have one daughter and also care for 2 of their nephews. To help support their family, Bridgett needed to find a job. Foliad, her husband, works at African Vision of Hope in Zambia and introduced her to one of the instructors for our Empowerment Program. "During my schooling with the Empowerment ministry I learned how to knit, sew, and create jewelry. In the first few months we learned about how sewing machines worked by taking them apart and studying their parts. Later, we learned about how to create basic dresses and other patterns. Many women do not make it to the end of this program, but I persisted. I had a vision of opening my own shop and employing other women before I even started this program, but I had no money for schooling. Joining African Vision of Hope's Empowerment Ministry was a dream come true."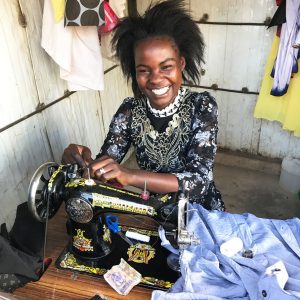 After graduating with her certificate, Bridgett bought her own sewing machine. She starting renting her small shop in Lusaka, but business was was slow. Not many people knew of her business when she started working, but now she has a steady stream of customers. Bridgett has so many orders that she is contemplating hiring another worker to share the load. She is using the money she makes to pay for her nephews to finish school in the village.
"Where I come from, there are many students who stop going to school because they do not have a uniform. It has been on my heart to start sewing uniforms for them for free, just as I received my training for free. African Vision of Hope supported me, now it is my turn to support those in my community."
Bridgett plans to give away 50 free uniforms by January. She also wants to encourage other women to start working so that they will have the same opportunities and freedoms as men. She knows that women and men share an equal burden in ending extreme poverty in their communities.
"Thank you, African Vision of Hope, for giving us women the gift of free education. I will use it to work for God so that others will also benefit from this gift."
Because of you, 120 women (and a few men) have graduated from the Empowerment Program and are able to support their families with a sustainable income. Your gift is being multiplied as these graduates economically impact their communities and give back to those less fortunate. Come into the African Vision of Hope home office in Maryville, Illinois to purchase items made by the Empowerment Program! Your purchases go towards paying instructors and providing the materials they need to train these men and women.