When African Vision of Hope started in 2003, there were 23 students in a rented tavern. Today, there are 3,000 students in 5 African Vision of Hope schools. As of this year, 330 students have graduated high school, and 58 have graduated from higher education. Andrew Dube is one of the 58.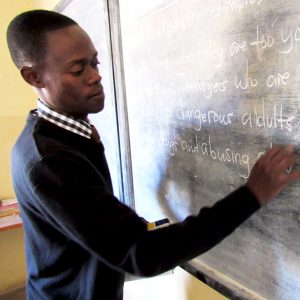 Andrew is proud to be an African Vision of Hope graduate from the class of 2012. "I am a double orphan, and without African Vision of Hope I would have never completed my education and become a teacher today. When I graduated, African Vision of Hope gave me a scholarship to college, where I graduated with my degree in Primary Education in 2016."
While on their mission trip in July, our team got to visit Andrew at his job as a teacher at St. Luke Christian School. He teaches 6th and 7th grade math and art. He loves his job, but his dream is to work for African Vision of Hope someday. He says that he wants to help children like him, and also wants to set an example of giving back to others for fellow graduates.  "It is not over when we are done with college, but it is a start of us helping others in need like we were."
"Thank you African Vision of Hope, the Director and leaders for what you are doing and what you have done. Without you, I would not have finished my school or college. Many orphans need support. African Vision of Hope is like a light to many orphans. That's why I want to help, because I see the work of God."
It is because of you that Andrew is a teacher today. Your donations and sponsorships send students like him on to higher education to pursue their dreams and be leaders in their country.