"I have no one to help me. Please, I am begging, help me."
Simon is an orphan and is begging for a spot in a classroom. He came to the African Vision of Hope School office and pleaded "I have no one to help me. Please, I am begging, help me."
Hearing a child, broken and alone, pleading for help is heart-wrenching. For African Vision of Hope staff in Zambia, this is an unfortunate part of daily life. They would love to enroll every student off of the street, every child who knows that African Vision of Hope is their last chance at receiving an education. Sadly, that is just not possible.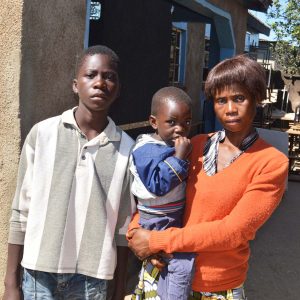 Simon, like millions of other children in Zambia, is an AIDS orphan. His parents died when he and his twin sister were young. Now she lives with their grandmother and he lives with his aunt.  "When my parents died I was in the 3rd grade. My auntie and uncle continued paying for my schooling, but then my uncle passed away last year. He was the one supplying the money for tuition. That is when I stopped going to school."
Simon's aunt has two biological children, so there are four of them living in a two-room rented hut. She works as a maid and any money left after paying rent is used to buy food. There is nothing left over for school fees. Simon knows he will never be able to go to school unless it is free.
There are not enough classrooms, not enough desks, and not enough schools for every child in Zambia to have an equal chance at education. School should be accessible to all children, not just the ones who can afford it.
The future leaders of Zambia need our help. Will you sponsor a child? Will you help build classrooms so that every child can exercise their right to an education? You can be the difference between poverty and possibility for a child in Zambia.
Help make room for more children like Simon