Last Friday, over 600 African Vision of Hope students were treated for worms and provided with education on hygiene. These services were provided by an African Vision of Hope graduate, Doctor David, and our beloved nurse, Clementina. David's college is being paid for by an African Vision of Hope scholarship. He is in his fourth year of medical school and loves assisting Clementina in her medical duties.
David, what were you and Clemintina doing at African Vision of Hope School on Friday?
"We were giving health education on worm prevention to the children and giving them de-worming tablets. We were also giving them toothbrushes and teaching how to use them. In many areas of Zambia, toothbrushes are not available, so they use sticks from trees to clean their teeth. This is not hygienic."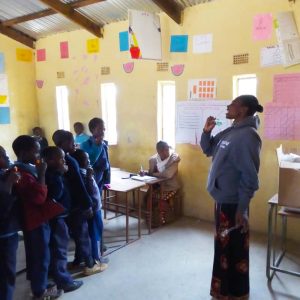 How has Clemintina helped you to become a better doctor?
"Clementina is a very good nurse. She has helped me to know how to interact with patients and how to prevent fear in a patient when treating them. The way to do this is to show love, confidence, and always smile so that the patient has hope that they will be fine and will trust you."

Why do you want to be a doctor?
"I have a passion for medicine. I love medicine and am enjoying my field very much. It hurts my heart to see people who are sick. I always try and look for ways to make them well again. I love my field of study because it is helping me find these solutions. Helping the widows and orphans is an act of worship. I think I will be a very good doctor because I am a fast learner and have confidence. For example, the first day we had dissections at school, everyone in my group was scared to touch the specimen. I was the first one to dissect, and I did so well that the teacher asked me to come in front of the class and demonstrate."
What are your goals?
"To finish my education and become a loving and caring doctor, to teach others around me about Jesus Christ, and to give back. I want to tell others about the importance of school and help people that are finding difficulties to go to school."
Doctor David demonstrates how to take the de-worming pill.
Why is it important to you to help out at the African Vision of Hope schools?
"It has always and will always be a great privilege to offer my services to African Vision of Hope schools. They have helped me to become who I am today and who I will be tomorrow. If it was not for African Vision of Hope, I would have been roaming the streets doing nothing but suffering. African Vision of Hope will always be in my heart and will always be my number one testimony. I look forward to serving with African Vision of Hope whenever I am needed because they are my family and have helped me to become who I am today and who I will be tomorrow."
There are thousands of children who dream of growing up and becoming a doctor just like David. Will you make their dream a reality?
Give towards college scholarships