Mary is so excited to graduate – almost as excited as her grandmother!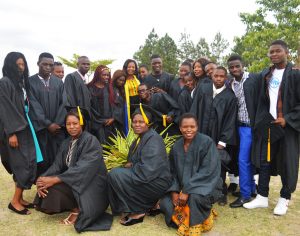 When Mary danced into her graduation ceremony last Friday at African Vision of Hope School in Chingola, her grandmother beamed with pride and lifted her hands in glee. Neither woman thought they would see this day. In fact, many of Mary's classmates have shared the same feelings of hopelessness – but now they are singing a different tune. They are part of the very first graduating class at our Chingola school, which is in the copper belt of Zambia.
Mary is a double orphan, losing both of her parents to a lightning strike at a young age. She went to live with an aunt, who also passed away. Another family took her in, and they also died. This trend continued two more times until Mary was ultimately given to her grandmother to care for. Her grandmother remembers how difficult life was for Mary before she was in school.
"People used to laugh at her and say she would never finish school or get married. Most of her classmates were being married off, but I wanted her to finish her education. I had very little money to take care of her, so I came to African Vision of Hope looking for help. She was enrolled in grade six, and when she reached grade nine and passed her exams I knelt down and praised God. Today I see God's blessings and power. He allowed Mary to graduate!"
Mary is overjoyed to be graduating. Many people told her she would never finish school, but she persevered and proved them wrong. She, and many of her classmates, are the first in their families to graduate high school – an achievement they could never have reached without you.
Continue the celebrations for years to come.
Give to impact generations