Sarah is a student in the African Vision of Hope Empowerment Program. She was not able to go to college because of her family's financial challenges. As a result, Sarah's parents married her off for a sum of money. She is still married to this man and they have a 22-year-old daughter.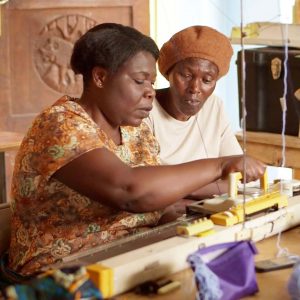 In 2016, Sarah joined the African Vision of Hope Empowerment Program. She wanted to gain skills that she could use to support herself and her family. "I have learned many things since joining the program. I never knew how to sew, but now I am able to sew trousers and shirts and knit sweaters. These are used as African Vision of Hope's uniforms. This is a very good program and I enjoy what we do. Thank you for giving us women this opportunity." Sarah has also learned how to make beads from paper to create necklaces and bracelets.
This program is a sustainable solution: African Vision of Hope students need uniforms, and there are village women who desire jobs to provide for their families. Just last year, the Empowerment Program sewed and knitted 1,600 uniforms for African Vision of Hope schools. To date, 40 people have graduated from this program and are now equipped with skills that they will be able to use to support themselves and their families. The Empowerment Center is a place of refuge, learning, fellowship and encouragement. Woman walk every day for miles to gather in this busy little center. They know that without education or job skills they will be scavenging or begging for food. These women are learning skills that will empower them into a future full of hope.
Come into the African Vision of Hope home office in Maryville, Illinois to purchase items made by the Empowerment Program!
Learn more about the empowerment program