Life for a 14-year-old girl in Zambia is full of constant uncertainty and worry. The highest rates of child marriage are in sub-Saharan Africa, where many girls are forced and sold into marriage by their parents and are wed to men more than twice their age. Fourteen-year-old Elizabeth is particularly vulnerable to this reality. Being in school and having a sponsor is instrumental in combating this situation.
Elizabeth lost her father in 2013, leaving her jobless mother to care for their 5 children alone. Life has been more than difficult since then. Elizabeth's older siblings were unable to attend school because of the cost so now they are adults without jobs. Her mother could not afford to send Elizabeth  to school either, but in 2015 when they heard about African Vision of Hope's free school they enrolled her as quickly as possible. She was placed in a fourth-grade classroom, and today she has now advanced to the 7th grade.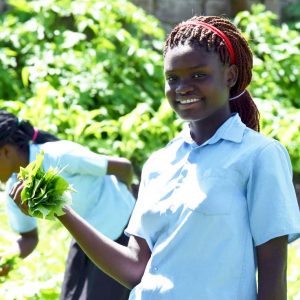 Richard Daka, headmaster of the African Vision of Hope School that Elizabeth attends, has nothing but wonderful things to say about her. "Elizabeth loves school like no man's business, always on time and never misses a class. Her performance in class is very good. She wants to study medicine and be a doctor in the future." Elizabeth loves playing games with her friends and reading. She gets to do these things because she is safe at school instead of working in the streets.
If Elizabeth was not in school, her life would be much different. She would have very few employment options, possibly resorting to selling her body to provide for herself and her family. Education means everything to young girls in poverty.
Elizabeth attends African Vision of Hope School, but she does not have a sponsor. Having a sponsor who loves her, writes to her, encourages her to stay in school, and gives her confidence that she can achieve her dreams would be life-changing.
Will you sponsor Elizabeth today? Her ID number is GL 333.