Charles and his congregation at "Life Change Church"

When you send a student to seminary, you don't just change one life. It is a ripple effect. By raising up men and women to spread the hope that is only found in a relationship with Jesus Christ, you impact not only their families but their communities at large. Charles Sakala and his wife Mirriam are examples of faith in action.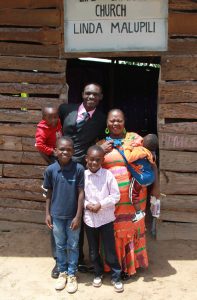 Charles Sakala was born into a family of 8 children and is the only one to have completed 12th grade. He had to wait 5 years before starting seminary because he could not pay for it on his own. "If God calls you He will provide. We have to take the step of faith."
"I cannot believe where I have gotten to today because of where I came from. God has taken me from the challenges I had into His perfect will." Charles will be graduating with his bachelors in theology this year, with a scholarship provided by African Vision of Hope donors.
Charles heard God's call and could not deny it. He and his wife have planted a church and are working to reach the people of their community that are spiritually and physically suffering, not just from hunger but also from not knowing Christ.  Mirriam has a certificate in women's ministry and is on a mission to reach the women and youth of Zambia. She also teaches and trains in African Vision of Hope's Empowerment Program.
Charles and Mirriam are wonderful examples of Christ's love in action. They could not have gotten where they are without generous donors like you. Without a seminary scholarship, Charles and Mirriam's impact would have been lost. Thank you for raising up preachers and teachers for the furthering of the Kingdom!
Send a Student like Charles to Seminary