Brothers Shadrach and Meshach pose with their fishing poles in front of their home.
Shadrach and Meshach Ngoma refuse to give in to their poverty, just as their biblical namesakes refused to give in to a corrupt king and bow to an earthly idol in Daniel 3. Even in their young age, the boys know that the trials they face, the fiery furnace they are thrown into, will not harm them but make them stronger. They have a faith and hope that makes them brave.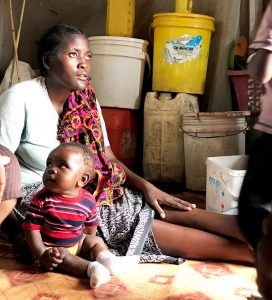 Both boys and two of their brothers attend African Vision of Hope School in Kafue, Zambia. Eight people live in their small cinder block house, pictured above. Their mother is a widow and provides for her 7 children by washing other people's laundry. Shadrach and Meshach see her struggling to provide and do what they can to lift her burden. The boys' grandfather taught them how to fish. In the morning before school they tell their mother "All you need to provide is cooking oil for dinner tonight. We will take care of the rest." After class they grab their handmade fishing poles and walk down to the river to catch the fish that will feed their family.
Without African Vision of Hope, Shadrach, Meshach and their siblings would have no hope of being educated. Their mother can barely afford to place food on the table, let alone pay school fees for her 7 kids. Because of African Vision of Hope's free education, her children can break their cycle of poverty.
Thanks to generous donors, African Vision of Hope School in Kafue is building additional classrooms and will be able to enroll more orphaned and vulnerable children very soon. Shadrach and Meshach's brothers, Edward (FA 123) and Smart (FA 54), do not have sponsors. Will you sponsor Edward or Smart and encourage them to continue working hard in school? Type their name and ID into this site and begin your sponsorship journey today!