Emmanuel trudges through the cold mud in Kasama, Zambia carrying 50 pounds of bricks on top of her head. At six years old, she should be spending her days in a classroom, not lugging bricks on her tiny head. It is winter time in Zambia, and Emmanuel wears worn sandals and a tattered sleeveless dress that are no match for the 50-degree breeze.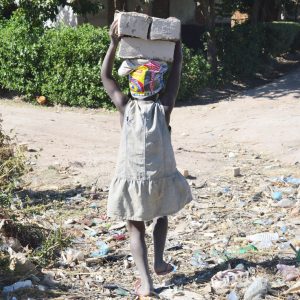 Emmanuel and her siblings work so they can eat. They are being deprived of an education and deprived of their childhood just to survive. Every day, the siblings travel two miles to deliver the bricks and two miles back to pick up another load. Each child carries 100 bricks on their head per day, making only $.50. They do not use a wheel barrow because it costs them money.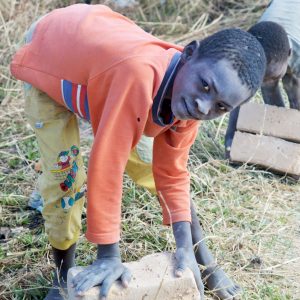 "We work to help our mother buy food to feed our family. She does not work, and our father works in the fields. He is a drunk and spends his money on beer. I don't go to school because we don't have any money to pay for school fees. My friends also have to work to buy food. We have no choice." – Emmanuel
When African Vision of Hope administrators visited our school in Kasama, Zambia they noticed many children like Emmanuel working in the streets. Child labor deprives kids of their childhood and access to education against their will. Education is their only way out. These children have stories that are still being written. You can be the one to change their narrative. You can rescue a child from slavery today.
Rescue a child from slavery