"I never had hope that I would ever stop being a slave," Evans Zulu recalls. Evans and his 3 siblings were left orphans very early in their lives due to the AIDS epidemic. Without their parents to take care of them, they would go most days without meals and never had proper clothing.
After their parents died, the four siblings moved into a one-room hut. They paid for the "home" by performing odd jobs. Evans was fourteen when he started his first job as a garden boy, and his sisters worked as maids. Both sisters became pregnant and stopped working, so Evans became the primary source of income for their household at the tender age of fourteen.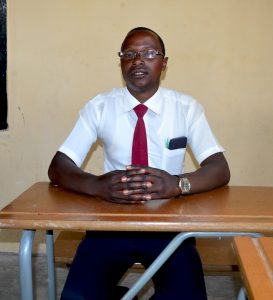 "We had a crisis of finding money while here in Lusaka to pay for rentals and eating. That's why I started working even though I was fourteen years old. I would start and stop schooling because I was chased from community schools because of school fees. I lost my hope of ever going back to school, I never had dreams of completing school and becoming someone in life. I never had hope that I would ever stop being a slave. I wanted to go to school and have a better job and life, because the life I was living with my sisters was not good."
God found Evans when he least expected it – at his uncle's funeral. His aunt works for African Vision of Hope Chongwe and found out about his struggles finding education. She helped Evans become enrolled in African Vision of Hope School in 2014. "The free education I am getting from African Vision of Hope has helped me have hope that things will change in life and that good things will come to pass. I believe that God answers prayers if you ask Him."
Evans loves singing and is now the choir director at African Vision of Hope Chongwe. He says that African Vision of Hope has helped him believe that "you may pass through a lot in life, but God can help you overcome the challenges". His favorite scripture to share with others is John 3:16 because it helps him know and see the love of God. When he graduates he wants to become a journalist.
"I thank African Vision of Hope and sponsors for the free education because many have failed to find school or to reach my level. May God richly bless them and continue giving them life so that they continue to change many people's lives as they are doing."