Above: Alfred baptizing a member of his congregation
Alfred has been busy since his graduation from seminary in 2017.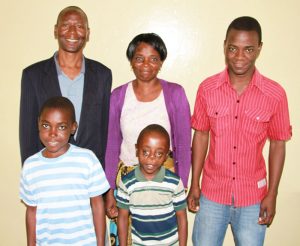 A few weeks ago, he joined fellow seminary graduate Isaac at his church on a remote island in Zambia. Together they prayed over both of their congregations and encouraged one another in their ministries. This week, Alfred conducted his first baptism as the pastor of his new church. "It was a joyous moment to baptize five women and three men. Teaching them and seeing them come to faith was a true honor."
Alfred would not be the pastor of his own church, mentoring others in their faith and leading a congregation to Christ, without your help. It is because of an African Vision of Hope seminary scholarship that he is able to do this and provide for his family. A few years ago, Alfred's life was consumed with trying to find medical care for his youngest son named Hope. Hope was born with a cleft palette, unable to eat and get the nourishment he needed because of this deformity. Trying to support his family and pay for Hope's increasing medical fees was becoming impossible, and paying for seminary was out of the question. When Alfred received his seminary scholarship, he was able to concentrate on his studies and has now reached his goal of becoming a pastor. His education provided him with an understanding of the Gospel – giving him the ability to plant churches and evangelize to the people of Zambia. He is now the pastor of a church and baptizing God's children because of YOU!
Hope, his son, was also provided medical care through African Vision of Hope and his cleft palette was corrected. Alfred's wife became a member of the African Vision of Hope Empowerment Ministry and learned to sew and make crafts to support their family, and their other two children were given a free education at African Vision of Hope schools. Every member of Alfred's family has been touched by your generosity.
"The Bible says, 'many are the plans of man but it is God who fulfills them all. So, I wish your prayers that God may use me in His own way in extending His kingdom. Once again, thank you very much and may God richly bless you." – Alfred
To ensure more men and women can follow their dreams of impacting Zambia's next generation, sponsor a seminary student like Alfred today.