Special Sakala has been here since the beginning. He began his journey with African Vision of Hope in 2004 when there was just one school being held in a rented tavern. Special was the caretaker for that school, then became the landscaper.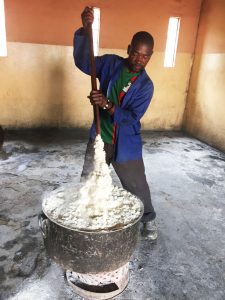 Now, Special is the head cook at African Vision of Hope Kabulonga and has two daughters, Jane and Yvonne, who have graduated high school through African Vision of Hope. He says that being the head cook has been his biggest challenge because he and his kitchen staff cook for more than 1,000 students. One of the trials of his job is gaining the respect from the students and making sure they follow instructions during meal time. Because of his job he has learned a lot about understanding the students and encouraging them to show respect. He has also learned budgeting skills and how to prepare food for a large crowd.
Special says "I have found a lot of help through African Vision of Hope. I am employed, and my children are receiving an education here. My biggest dream and prayer is for God t bless me so that I can build a house for my wife and children. Thank you, African Vision of Hope, for everything you have been doing in my life and my children's. May God bless you all."
Because of you, Special has been able to provide for his family for the last 13 years. His children will grow up educated and empowered because of their father's example of hard work and dedication to serving the students of African Vision of Hope. Thank you for giving him not only a job, but a sense of purpose and belonging. Your donations allow Special and other African Vision of Hope employees to earn a living for their themselves and families. Thank you!