The most lasting transformation in African Vision of Hope students takes place in their hearts. When they walk onto the school campus they learn that they are loved. As they are discipled by teachers, pastors and staff, they learn that God has a special plan and purpose for their lives. This changes everything. Their life transforms from broken to whole, forsaken to loved, and darkness to light. These young men and women can lead and disciple others who have had the same pains and journey as their own.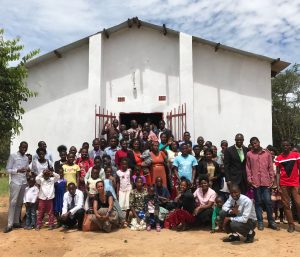 Stephen knew he was called to be a pastor but could never afford formal training. He has two children and is also raising three of his nieces who were in vulnerable situations, which left him with little money for school. When Stephen heard that he had been chosen to receive a seminary scholarship, he said "Praise God."
 "I want to express my heartfelt gratitude for sponsoring my theological studies. Your obedience has prepared me to preach God's word and has made His calling come alive. I am very grateful for the impact on my life and the lives of many others."
Stephen's wife is also a sponsored seminary student. Their church has planted two churches and plans to continue expanding the Kingdom. Through your investment in spiritual mentoring, African Vision of Hope has been able to provide over 45 seminary scholarships to indigenous men and women.  As they graduate they become part of an ongoing discipleship program that engages both the African Vision of Hope schools and local community by addressing their spiritual and physical needs. The impact of one seminary scholarship is multiplied into the transformation of many lives. By coming alongside them, you extend the arms of Jesus from your local churches into the churches and communities of Zambia.
give towards providing seminary scholarships