Susan in the African Vision of Hope tech lab.
When Susan was a little girl, she never dreamed that one day she would be in college, studying to be a banker, and interning at a school office. She has always loved math and working with numbers, but her home life limited her ability to go to school and pursue her dreams.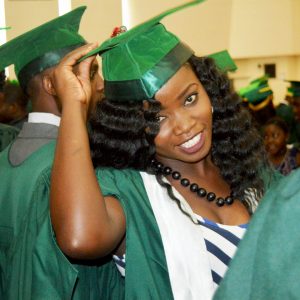 Growing up, Susan's parents had a very abusive relationship. "My parent's situation made me very angry," she says. "We only saw dad late at night or very early in the morning. He was always drinking or on drugs. My siblings and I would wonder 'Why do mom and dad have to fight? They are enemies.' We felt no love from our parents." Eventually, her mother left their family and was never seen again. Shortly after, their father died and left Susan and her siblings in the care of their aunt.
Susan's aunt had four children of her own and could not pay for Susan and her siblings to attend school. She would mock the kids for not being able to afford school on their own and would make them ask neighbors for food or dig up nuts to eat. Susan's aunt pressured her to get married so that she would no longer "burden" the family. She was told "I would rather send your brothers to school. Girls get married and then their life is over. There is no use in educating girls." Unfortunately, Susan's sister became a victim of early marriage and was sold at 15 to be a man's wife. She is now 16 and has one child.
Susan's saving grace was a neighbor who saw her struggling and told her about African Vision of Hope School. "I did not believe them at first because Zambia doesn't have free schools. After applying, I was accepted and was even given books. I started African Vision of Hope School in grade 10." Susan quickly made friends and was able to cultivate her love for math and all things numbers. She started attending church with fellow classmates and became the treasurer of her youth group. After graduating in 2013, she began pursuing her degree in banking.  She is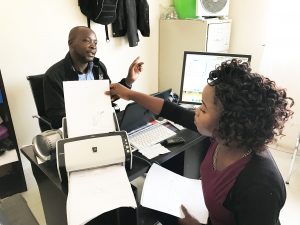 currently interning at the African Vision of Hope office in Zambia as an office assistant. She files papers, types letters and "goes where needed."
"Christ has made me forget the things I have passed through. My teachers told me every day 'God loves you.' It was God that saved me."
It is because of you that Susan is going to school and following her dreams of becoming a banker. There are so many more "Susans" who are waiting for their opportunity at a future full of hope.