College isn't cheap no matter where you are in the world. It is especially expensive for those living on less than $1 a day, which is most of the population of Zambia. Over the last 16 years, African Vision of Hope has granted 46 people seminary scholarships so they can learn how to preach and teach others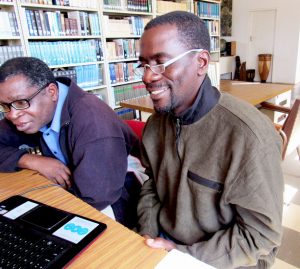 about Jesus.  Through their education they have been able to proclaim the gospel to over 46,000 people. This isn't just through preaching in churches and schools, but it is also through leading programs like Awana and Sonshine Kids Club and other community outreach programs. These programs reach children and families who live in places where they would have never heard the gospel. Without your donations, this would not have been possible. David Chibanga is one of those 46 taking the gospel to the nations.
He and his 10 siblings, most of which have passed away from AIDS, were raised by a single mother, who David credits as his spiritual influence. He remembers that she prayed over him and his siblings every morning and took them to church every Sunday. David recalls the day he gave his life to Christ vividly. "In my tenth grade in high school I was convinced I was a sinner in need of a Savior. I proclaimed my faith in front of my church, and when I did everyone clapped."
David felt the call to ministry later in life when he met a missionary from the Democratic Republic of Congo.  "He helped me recognize my gift in the pastoral ministry. I was ordained, but I realized I needed training for the huge task ahead of me. I am currently pursuing my Bachelors Degree of Theology. God willing I will graduate in November 2017. I Thank the African Vision of Hope for sponsoring my theological education. I Thank you so much."
Continue supporting students like David so that more and more of the lost can find the joy and peace found only in a relationship with the Savior. Thank you.