Day Time Occupation:FOCUS Fitness Manager & Certified Personal Trainer, God's Mission Man 😉
Why are you a part of the African Vision of Hope volunteer team/family?
I have heard about African Vision of Hope from Judi at church and wanted to help out but wasn't sure where I could fit in. One day Judi asked me to join them on a mission trip and to help teach health and fitness and suddenly my two worlds aligned.
God provided a way for me to go & for now my mission is to help African Vision of Hope end extreme poverty! I LOVE to serve alongside of these amazing people!
What is your best African Vision of Hope volunteer memory?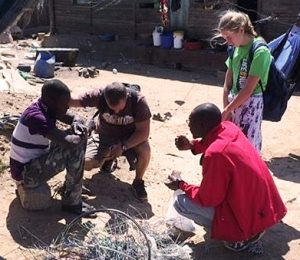 I remember being on the mission trip and sitting on the bus going to Bethlehem church where one of our Seminary Graduates, Tony Banda, pastors a church. On the bus the roads were so bad and I remember taking short breaths due to the dust and exhaust fumes. When we arrived at the church it was so dilapidated, I joked how it was "holey". The walls and roof had holes everywhere, the church had great lighting because there were that many holes. The mission team broke off into groups and were talking to the people living in the village there. Bob and I started talking to a young man and I pointed out to him that the Zambian bracelet he was wearing was the same colors as the salvation bracelet. I explained the colors of the salvation bracelet and Lawrence translated for me. The young man prayed right then and we were able to give him
a bible that I had been carrying in my backpack. Little did I know that I would be meeting a young man under a small tree with flies in between his toes ready to ask God to come into his life. It was an unbelievable God experience.
What are your favorite hobbies?
Spending time with family; we enjoy everything from hanging out and watching movies to going for hikes. Family is important to me and I love spending time with mine no matter what we are doing. I also like to help out wherever I can, I like to help out with Churches on the Street and raising awareness for veteran suicide through 22 Kill.
One thing that would surprise someone to learn about me is…
I ate a mouse leg in Africa! I was pretty nervous to eat it but all the food was prepared for us during the mission trip. There were caterpillars too, I ate those and they were actually pretty good. I can't say the same for the mouse leg though.
Favorite Bible verse?
"For God so loved the world that he gave his one and only Son, that whoever believes in him shall
not perish but have eternal life."
-John 3:16
I liked it so much I even got it tattooed on my wrist as a constant reminder.