Day Time Occupation: School Social Worker
Why are you a part of the African Vision of Hope volunteer team/family?
Why would I not be part of AVOH? Being involved with AVOH has totally changed my life, from the time I signed up to go on my first mission trip in 2013 it has been an amazing journey. This has become my family, my friendships and what is important. Serving others, helping others and transforming lives. Having seen the impact AVOH is making in Zambia, I'm glad to help out anywhere I can. There is always something that can be done to help.
What is your best African Vision of Hope volunteer memory?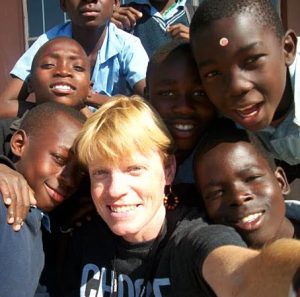 On my first mission trip we went to a church where there was a Sonshine Kids Club and and the building was held together by plywood that seemed to not fit together. Here, we sat in chairs that sometimes had 3 legs, or on a dirt floor. Three live chickens in a box at the back of the church looked at us as we filed in. The worship and the singing at this church was so spirit filled and like nothing I had ever witnessed. The people came from the nearby village just praising God with everything they had in them. They didn't act tired or like they couldn't wait to sit down. They were not worried about who they were going to go to lunch with (remember the chickens?). They were there for one purpose and that was to worship. A little ways away and across the dirt playground outside, barefoot kids played with soccer balls made of trash and giggled with delight. Their only toy, yet they know no different. Across the "road" (which really isn't a road at all) we walked to a field that was covered with dried grass, uneven soil and broken glass that looked like makeshift markers. I will never forget the moment we were told we were standing on a cemetery and that "uneven soil" was actually little mounds of dirt where both adults and children were buried. Right next to where the kids played soccer, where the community came to praise God in their little church with the chickens, their loved ones were buried. Death is a part of life. Many of the children have lost both parents to AIDS or other disease and many children do not make it to age 5. I will never forget that day, the day I realized that Joy does not come from a big organized church building and material possessions. It comes from God and from putting your faith and hope in Him.
What are your favorite hobbies?
I also volunteer with Churches on the Streets and the Christian Activity Center. Traveling, exercise, dance and occasional karaoke.
One thing that would surprise someone to learn about me is…
I love Scotland and Ireland, have been to both and found the towns where some of my ancestors came from. I also LOVE celtic music. (Yes that includes the bagpipes!)
Favorite bible verse?
Philippians 4:8:
"Finally brothers and sisters, whatever is true, whatever is noble, whatever is right, whatever is pure, whatever is lovely, whatever is admirable- if anything is excellent or praiseworthy-think about such things."