Thanksgiving is a time of reflection as we look back on the year and reminisce about everything we are thankful for. African Vision of Hope is no different. Looking back at 2017, it is evident that God has poured out His blessings through you and your generosity.  Because you stepped up and stepped out, much has been accomplished across the globe this year, including: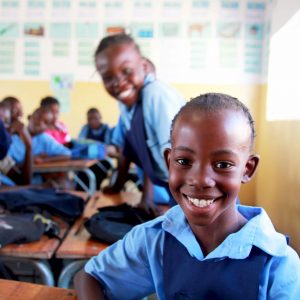 700,000 hot lunches served
30,000 pounds of supplies delivered
13,000 volunteer hours performed
10,000 people provided clean water
3,000 orphaned and vulnerable children received a free education
1,600 school uniforms made through the Women's Empowerment Program
330 children have completed high school
35 graduates are receiving college scholarships
23 life-saving surgeries completed
9 new classrooms built
All of this is because of YOU. "Thankful" seems too small of a word to describe the gratitude the students and staff at African Vision of Hope feel in their hearts. They are living out God's plan for their lives and are becoming leaders in their country and community.
Because of you.  Thank you!