Among the students attending African Vision of Hope's most rural school in Chongwe, Zambia, are 5 siblings from the Lungu family. John, Thezia, Irene, Kelvin and Maureen are in grades 2,5,6,7 and 9. Their lives would look very different if it weren't for this school in the bush.
The road to Chongwe is beautiful. Trees, wildlife and children line the dusty path. Over 600 students attend the African Vision of Hope school in Chongwe. Some walk over 2 hours each way to reach class.  Our teachers also walk to school, and it is their unfailing to serving at this rural school that is changing lives and paving the way for their students' success.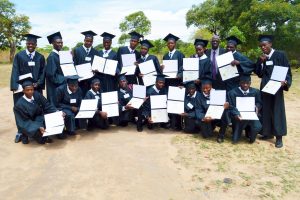 Over eighty percent of Zambians live in rural areas. They struggle to get clean water, rely on their small gardens to carry them through the hunger season, and have little access to schools. Without medical care a minor illness can become deadly overnight. Gender roles and customs mean that girls are removed from school to collect water, care for siblings, or often sold to the highest bidder.
By the age of fourteen, most girls become wives before they've had a chance to mature into women.  Ruth is the single mother of 5 children and is also caring for her grandchildren after her eldest daughter died of AIDS. Their small garden is their only source of food and a small income.
"Without African Vision of Hope my children would be hopeless. The school has given them a future and provides them with a meal every day. It has also given them medical care and puts them on the right path for life." – Ruth
Thezia is one of Ruth's daughters. She just started grade 9 and is excited to have tools for learning like pencils and notebooks. She works hard in school every day. Her family's home, made of mud bricks and a thatched roof, lacks running water and electricity. This means that, after school, she must walk an hour to collect water for bathing and cooking and finish her studies before the sun goes down. She has been given leadership responsibilities at school and desires to become a nurse. Thezia knows if she works hard she will be able to apply for a scholarship for college through African Vision of Hope.  Among the Sandabunga siblings there are future nurses, doctors and teachers. Their dreams have no limits, and that is how it should be.
When asked what life would be like without African Vision of Hope School, the children responded "I can't even imagine."