In Zambia, when the man of the house passes away, his relatives have claim to all of his family's possessions. This was a painful reality for Christopher's family of six children. When their father passed away, his relatives took all of the property and possessions he had worked for. "After that it was very hard for my mother to raise us. But, because of the grace and mercy of the Lord, we conquered the challenges." Now he is in college, and it is all because of you.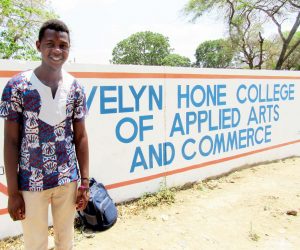 In 2004, Christopher started grade 1 at African Vision of Hope School. "The school provided me with the academic materials I required, books, shoes, and a uniform. At no other school would these gifts have been given to me." Years later, in 2010, Christopher gave his heart to Christ and was baptized.
Christopher graduated with  African Vision of Hope School's class of 2015. After graduation he began working as a surveyor. During that time he developed an interest in business, and after applying, was granted an African Vision of Hope college scholarship to attend business school.
"To me without African Vision of Hope it would have been impossible to learn and attend school. I was at African Vision of Hope School from grade 1 to grade 12. I learned a lot about Jesus Christ while at school. My teachers, friends, and even the mission teams from the USA taught me. 

When I complete my college degree I want to help others out there because God has shown me love and favor in my life. Therefore, I want to show His love to others.

"

 
What seemed like an ending when his father died was really the start of Christopher's future. From his start in grade one, to his high school graduation, to his college beginnings, his entire education has been a product of generous donors like you.  
Thank you!
[button style="btn-primary btn-lg" type="link" target="false" title="Help support students like Christopher through college" link="/giving/higher-education/" linkrel=""]