We all have one teacher that sticks out in our mind. Maybe it was the way they taught or the care they took when interacting with students. Maybe it was the way they mentored and set an example for their classes. Isaac Banda, a teacher at African Vision of Hope since 2015, tries his best to do all of these things.
If "child" Isaac could see "teacher" Isaac today, he would be very proud. As a child he was passed between family members, one member would die then he would be passed on to the next. After being in and out of school during his elementary years, he graduated high school and began doing any work he could to save enough to pay for the results of his final 12th grade exams. Without those results, he could not go to college. Many children in Zambia face a similar situation.
Isaac had hope that he would one day become a teacher, so he approached Chongwe College of Education, "and by the grace of God the principal accepted me into the program." Isaac had to promise that he would pay back his fees when he graduated. While completing his studies, he taught as an untrained teacher, saving as much money as possible. After graduating with a certificate in primary education, God led Isaac to African Vision of Hope to teach grade 7.
"I started teaching because I want to make a change, not just by educating but by being a parent to the students as well. I act as a father to my pupils. I don't want the kids to go through what I did. I admire the work African Vision of Hope is doing because when I was growing up, I remember passing by and seeing African Vision of Hope School and wishing I had the same opportunity as the kids here. These children go through a lot in life. Without school they would be in the streets. Education is life. You are giving these children life."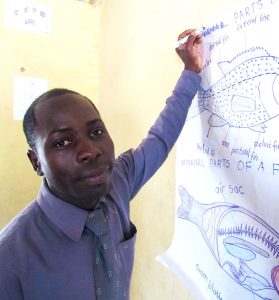 Not only do the students have struggles, but the teachers face challenges too. Most teachers have to walk more than an hour to get to work and are tired when they get there, making it difficult to teach their pupils. Their students also have to walk a long distance to school, making them late to class, which is also a challenge for teachers.
This year, a big goal for African Vision of Hope Schools in Zambia has been to hire qualified teachers that will take education seriously and train our students to be the best and brightest in the country. Isaac comments that from the time he joined African Vision of Hope staff in 2015 he has seen many improvements in the performance of students and the infrastructure of the schools.
"In every life situation God has a plan, we need to have patience, because God's grace is sufficient to all. I am grateful for the privilege that African Vision of Hope has entrusted upon me and I will work diligently to execute my duties and help the vision and mission of the organization in the community"  
Your donations go towards education programs, teacher training, teacher salaries and more. Keep the dream of education alive for children living in extreme poverty.  
educate the next generation