As a new student comes to live at the African Vision of Hope orphanage they are leaving an old life behind. This new life is what so many cannot even imagine but there is one thing from their past that they will miss…
Q: What was your life like before coming to African Vision of Hope?
A: I was alone. I had to work for everything. If I was hungry I found my food at the dump. I had to learn how to find the better food that will make you less sick. If you find bread, usually the middle has less mold. At night sleeping on the street, men would come and take you. They gave you shelter for the night but you had to "lay" with them. I do not like remembering those times.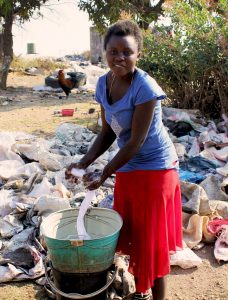 Q. How did you learn about African Vision of Hope?
A. I was 14 and about to be sold into marriage. A lady at the market overheard and begged my aunt to let her help get me into school instead. My aunt gave her two weeks. If this stranger could not help me then I would be sold into marriage so my aunt could collect my dowry. Two weeks' time and a stranger held my future.
Q. How do you feel about living at the orphanage at African Vision of Hope?
A. (Smiling brighter than a sunbeam) "Happiness. I am so thankful for this opportunity. I know the gift I have been given and I study so hard so that I can graduate and become something more. I know I am blessed but what about Lydia?"
Q. Tell me about Lydia?
A. She is me. We are the same. Except I am clean and learning now and she is still on the street being forced to do disgusting things and searching for food. I miss her. There are so many girls like me and my friend Lydia. I study so I can pass my examinations and graduate. I know once I can complete school I can open a space for another girl.
What about Lydia? That question has touched us to our core for years. There are so many young girls suffering. 13 year-olds are being forced into marriage. 10 year-olds are being raped so they can have shelter. 6 year-olds are caring for infants. This is not the life we would choose for little girls.
In 2007 we built the first African Vision of Hope orphanage that now houses 52 children; a place that is warm, loving and nurtures them as they grow, a place that they can call home.
We are happy to say that there will soon be enough room for Lydia and so many other girls at our second orphanage. We will be able to rescue 60 more girls from their survival situation and instead give them a life changing sanctuary.