What happens when you do construction barefoot? We'll let you know! We are currently building at three of our school locations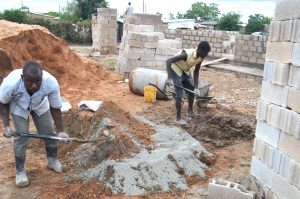 In the bush of Chongwe we are constructing our 12th grade classroom. This is a far cry from where we started. Our first classroom was under the shade of a tree and now we have a school that will educate 620 students all the way through 12th grade.
At the new girl's orphanage the water well is in and ready to pump perfectly clean drinking water. The perimeter fence is up and now complete. Next step? Building the foundation.
Our Kafue school location is getting three new classrooms to serve the growing number of students eager to fill the classroom desks.
The impact of a school is hope. Bringing the hope of the Gospel along with that ensures community transformation. Education is a gift to the adults in these villages because it means their children have a way out of poverty. With these new classrooms and the second orphanage on its way, African Vision of Hope is able to reach even more children- providing the children to grow up into the people God wants them to be.
Help Build A Classroom