Nina just wanted to go to school. She was young, orphaned, and losing sight of any kind of future that included going to school. When she came to African Vision of Hope in 2007, Nina was not only hungry for food, but starved for an education.Nina needed a plan. African Vision of Hope fed her, educated her, and empowered her. She graduated African Vision of Hope School in 2015 and applied to receive a college scholarship. Because you opened the door, she was able to start her degree in Computer Engineering and will be graduating next month.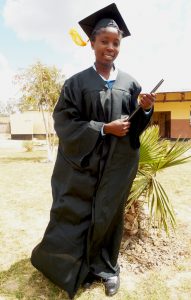 "As soon as I finish my studies and get good grades, getting a job will be easy for me because of my degree. I will be able to help my family financially. I pray that our good Lord continues blessing everyone who is a sponsor of African Vision of Hope allowing us to go to college and universities. This is a very wonderful opportunity. I never had the hope that I could complete my education and go to college but now my hopes are built up in my future plans. I will never forget this wonderful blessing."
Did you know that you have a story that can change someone's world?
Together we are changing the stories for children like Nina. We couldn't do it without your story. You are the ones fundraising and donating and volunteering your time. When you provide a scholarship for higher education, you are impacting the next generation of leaders that will change villages, communities and countries. No matter who you are and what you do, we want you to know that your story has the power to change their story. A story like Nina's.
We have 35 college students waiting for sponsorships. Have you been feeling the urge to help someone like Nina? You can change their world! Give a student a chance to have a college story and to change their world too. It will make a difference for you and for them.