Not many orphans are as fortunate as Stella.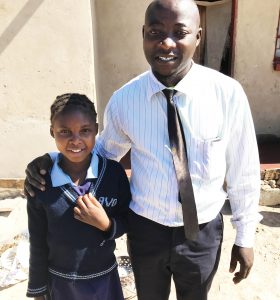 Every day, Stella goes to school and is told by her teachers that she is "a very smart girl". She is in the sixth grade and goes to African Vision of Hope school in Kafue, Zambia. At 13 years old, she is at a very vulnerable stage because many girls in Zambia are married around this age. Because of you, Stella is in school and protected from this reality.
Like many orphans, Stella lives with her grandmother along with many other family members who do not have homes or parents to care for them. When she goes to school, she escapes her stressful home situation and is able to be a kid. "I love my teachers, and I know that they love us very much too. I am so happy to be in school, happy to be learning, and happy to have many good friends who go to school with me. School is where I am free."
Educating girls like Stella is one way African Vision of Hope is ending the cycle of poverty that traps young women in Zambia. She will be educated and have a future full of options. Her life will not be decided by her situation, she will decide the path she takes. Stella will be able to avoid disease and early pregnancy because she has health education and medical care. She will grow up strong because she receives food and clean water at school every day – and this meal may be the only she receives daily. This is all because of YOU!
Thank you for educating Stella and 3,000 of her classmates. You can continue impacting generations with your generosity by sponsoring one of Stella's friends in Kafue.