In our 13-year history, all of our graduates have been the first in their families to graduate high school.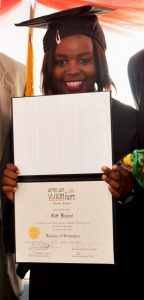 This year we had our largest graduating class… 62 students. Because of your sponsorships every graduated senior is equipped to go out into their communities ready to work hard, to pursue college or seminary, or to have distinguished careers in law, business or education.
The strengths they discovered at African Vision of Hope are the same strengths that will help them excel in whichever career path they choose. And the obstacles they had to overcome prior to their schooling pushed them past their limits revealing to themselves that they were always capable of more. You changed their future. You gave them a future.