Behind a small restaurant in the Chongwe market, 11-year-old Jonah waits for the scraps of burnt food the restaurant owner tosses out every once in a while. He has worn the same Disney® shirt for weeks, and his hands are dry and cracked from hard labor. A deep scar runs down his right eye and cheek.
The restaurant owner brings a handful of burnt pieces of bread and hands them to Jonah. Usually considered trash, the burnt food is the first meal he has eaten all day.
Behind this restaurant is where our Child Protection Officer, Trevor, found Jonah. After helping him gather up the bits of scraps, Trevor followed Jonah home in hopes of learning more about his situation.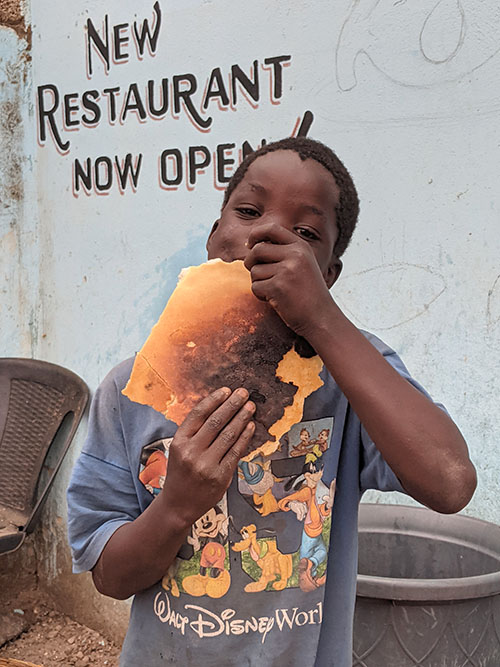 Jonah's Story
The death of a parent in childhood is a traumatic experience. It is worse when a child loses both parents. That is the case with Jonah. He lost both his parents within one year.
Jonah's father was a taxi driver. He and Jonah's mother had five children, with Jonah being the youngest. One day a riot broke out while Jonah's dad was at his taxi stand in the Chongwe market. Police officers came quickly and utilized tear gas to get the crowd to disperse. Unfortunately, one of the officers used live ammunition on the group, and Jonah's father was mortally hit in the confusion.
Jonah's family began to face many more challenges following his father's death. As a housemaid, his mother did not earn enough money to support five children. Rent could not be paid each month, and food was scarce.
One day, as Jonah and his mother were walking on the road, a motorcycle traveling at high speed ran them over. Jonah's mother died on site. Jonah's injuries were significant, and he was transported to a hospital an hour away in Lusaka.
A New Set of Challenges
Jonah remained in the hospital for two months. Now an orphan, Jonah lost both parents in a few short months.
Once discharged from the hospital, Jonah went to live with his elderly grandmother. His older siblings had already gone to live with other relatives in other towns. Jonah returned to a very different life with even more challenges.
Jonah and his grandmother live as caretakers of a small house without electricity or running water. It is Jonah's job to fetch water. Each day he makes the one-hour walk with his bucket to the well and carries the full bucket back home to his grandmother.
Jonah's grandmother earns a small amount of money washing laundry for neighbors, and Jonah takes on small jobs as he can find them. When he wakes up, he walks to the same market where his father died to find work opportunities. One way Jonah earns money is to draw water for a couple of the small restaurants in the market.
Help more children like Jonah.
Food vs. Education
Before his parents' death, Jonah attended a small school near their home. However, he now has to choose between food and school. When he is paid a little money from pouring water, he can purchase some food to take home to his grandmother.
Jonah's story is one that Trevor has heard many times from other children in similar situations. The constant search for food makes education unrealistic for so many. If they go to school, they do not eat. At this point, so many children get stuck and go through life uneducated with few opportunities.
Zambia has some of the world's highest malnutrition rates, with 48% of the population unable to meet their daily calorie requirements.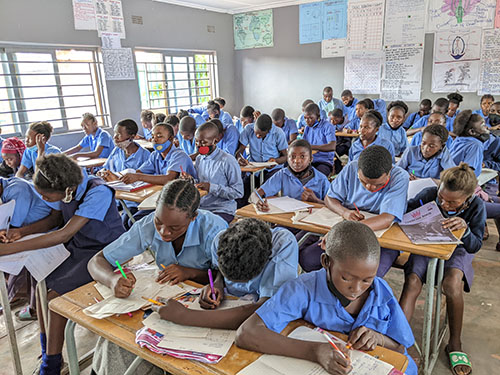 Hope for Jonah
The idea of not only free education but one with a hot lunch each day seems like a dream for children in Zambia. Through your giving, Trevor was able to share this dream with Jonah.
Trevor enrolled Jonah as a third grader in African Vision of Hope Chongwe School. Jonah can now access clean water at school and spend his days in a classroom instead of working in the market.
He no longer wears the same dirty t-shirt for weeks at a time but a blue school uniform. He now has the support system of Trevor, the love of his third-grade teacher, and the spiritual guidance of his school pastor.
Soldiering On to a Future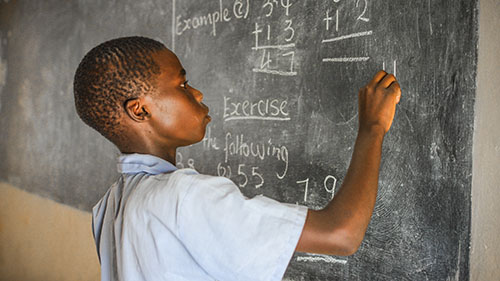 Jonah shared with Trevor how he wants to become a soldier when he grows up. He strongly desires to defend his country and uplift his family from the shackles of poverty.
This dream can become a reality now that Jonah has education and nutrition. Through your generous giving, this courageous boy has hope for a future.
Now is the time to help another child have hope for a future.