My name is Jill. I was first introduced to African Vision of Hope 17 years ago, started volunteering and took my first Mission Trip to Zambia in 2008. I am now a part of the global African Vision of Hope team and I am so thankful to be the hands and feet of Jesus to these vulnerable children and families. It is my passion to bring their stories to light and partner with you to break the cycle of extreme poverty.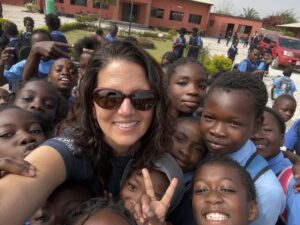 During my Mission Trip to Zambia last month, I met Grace, a 10th grader at one of our schools. Grace was in the school medical clinic saying she was not feeling well. After the school nurse examined her, Grace was given a plate of hot, nutritious rice. This seemed like it was just what she needed. She said she felt better and was able to return to class.
Later that afternoon, the Mission Team visited Grace's home in a shanty compound near the school. We met her mother, Catherine, who supports a total of 12 people, including her elderly mother. Catherine is not educated and struggles to provide for her fragile family. She is unable to pay rent so they find themselves moving every few months. They have been in their current home for 3 months, as the owner has allowed them to stay for free to "look after the home" until he can find a paying renter, then they will be "chased" away as they say.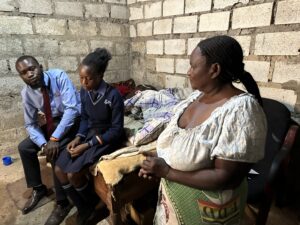 Despite their challenges, Catherine was thankful and wanted to pass on her gratitude to all of YOU who make it possible for Grace and her son Steven to receive a free, Christ-centered education. We prayed over the family and started heading back. Grace was hanging back with me and had become very quiet. She was walking closer and closer to me and I could see pain on her face. I stopped and asked her what was wrong and she broke down crying. Through her tears she explained she was worried about being kicked out of their current home. She was afraid they would have to move far away from school, her friends, and she would be unable to complete her education. With only two more years of school left, Grace can't imagine not being able to finish. If she doesn't finish school, she will continue in the same cycle as her mom. The stress of it all came crashing down on her and that is the real reason she was in the clinic. I held Grace tight in my arms and prayed over her, for God to be in every aspect of their family situation and for God's peace that is beyond understanding to settle on her.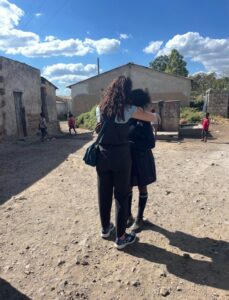 In the weeks since I had to leave Grace in the compound, our loving team on the ground has been looking after her family and helping them get through this challenging time. They have been added to our extended feeding program so there will be food for everyone in the family. This precious gift of nutritious meals allows Catherine to pay rent instead of having to choose between one or the other – rent or food.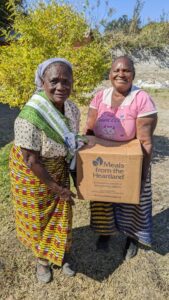 Because of YOU, Grace and her family have a HOPE for their future.
Please give to rescue more families like Grace and Catherine's.
Serving with you,

Jill Morlan
African Vision of Hope
Ministry Operations Manager