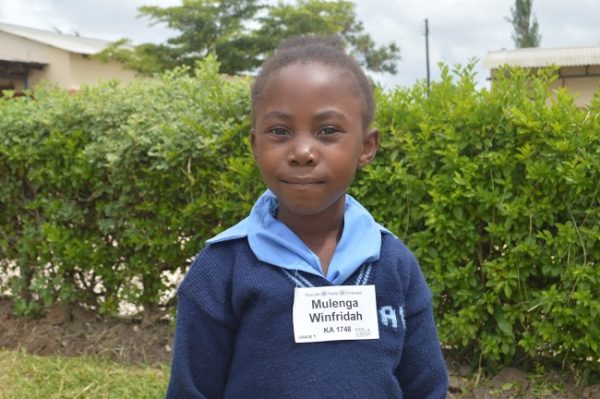 Grace – KA 1634
Hello, my name is Winfridah.
I live in village of Mtendere and attend school at African Vision of Hope in Kabulonga, Zambia.
I am a 8 year old girl in grade 1.
My birthday is December 31st.
My favorite subject in school is studying Mathematics and I enjoy Dancing. I would really love to have you as my sponsor, your encouragement through letters and prayers would help me very much.
Child sponsorship is a way to make a lasting difference in Winfridah's life.Your $37 per month will help provide her with:
Education opportunities
Life skills training
Clean water and nutritious meals
Basic medical care
The opportunity to hear and learn about Jesus Christ
As Winfridah's Sponsor
You will receive a yearly updated photo of Winfridah along with letters 1 -2 times a year. You will also receive a welcome kit to fill out about yourself so it can be given to Winfridah. This will help her get to know you and your family. A teacher or staff person will assist children who have yet to learn how to read and write.
Out of stock
Product Description
Child Sponsorship Africa Student Grace KA 1634
Sponsorship Wall – Cindy in CO.